Testing, masks, quarantining all mark athletics in a COVID world
Just like the rest of the world, coaches and student athletes have had to adapt to pandemic restrictions, whether it be wearing a mask while continuing to play their sport, testing for COVID-19, or even not playing at all.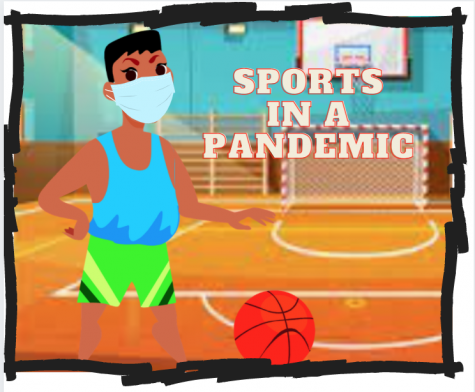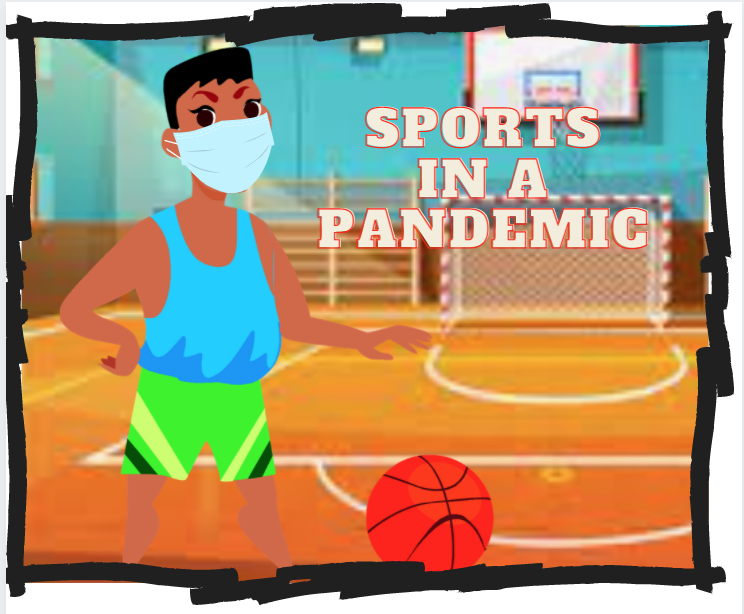 After nearly a year off the field, Governor Cuomo announced Jan 22 that an adjusted period opportunity to play sports. The winter season began Feb. 1, while some fall season sports, including football, were permitted to start March 1. Winter sports were cut down to three weeks, while fall sports were scheduled to at least two months. 
"I'd say practice is harder than last year because of the fact that we have to wear masks which limits our breathing," said Sebastien Jean-Pierre, a sophomore wrestler. 
While the Suffolk County Health Department gave the okay to start playing high risk sports such as volleyball, football, wrestling, cheerleading and basketball, it did come with the condition that athletes have a once a week rapid COVID test to be able to participate in their sport, according to Newsday. 
"One hundred and ninety eight athletes signed up [to play sports] in a five-day period," said Bob Panariello, Director of Health, Physical Education & Athletics "All students athletes will be screened and tested once a week till the end of their season."
The Suffolk County Department of Health provided COVID tests to the school district, Panariello said. Countywide, some 80,000 kits were supplied to districts, according to Newsday. 
"I think COVID testing for volleyball is necessary because we all are next to each other on the court," said Rossana Khan, sophomore and volleyball player. "I was nervous to get COVID tested because before volleyball i had never been tested before."
For COVID testing, student athletes had to fill out a form with basic information about their health status, similar to the surveys filled out at a doctors office, according to Khan. Then, they were socially distanced in the Little Theater while they waited for our name to be called for testing. 
"COVID testing wasn't that challenging, I would say it was easy," said Gavi Cabrera, junior and softball player.  "It did get redundant to do it every week and wait in line for it. I think every sport should be safe but I feel as though not every sport is the same and therefore not every sport needs it."
Within the first week of the return of sports, 14 basketball and two wrestling  teams from Suffolk County had to quarantine due to positive COVID tests or contact tracing, according to Newsday. In March, members of one of the school's teams had to quarantine for 10 days due to contact tracing. The remaining teams continued to play. 
Several student athletes who had been quarantined were contacted for comment, but did not reply by presstime.
Coaches, who were also tested once a week with their athletes, found themselves with new CDC rules to follow such as social distancing, mask wearing during practice (with mask breaks), sanitizing equipment, and limiting contact as much as possible. 
"As a coach, I am doing everything I can to keep the athletes safe," said Amber Atkins,  coach of the girls wrestling team. "I am very strict with our mask wearing and other COVID protocols. I personally take responsibility to make sure all of my girls are abiding by our COVID rules."
A majority of student athletes nationwide reported experiencing high rates of mental distress since the outset of the pandemic, with over a third experiencing sleep difficulties and more than a quarter feeling sadness and a sense of loss, according to an NCAA survey. 
"I am bored out of my mind when I do not have sports in my life," said Megan Leggio, sophomore and a three-season athlete. "When I do [play sports] I am less stressed and obtain a more positive attitude because I am with all of my friends."
Sports had been cancelled in New York on March 13, 2020 when schools transitioned to distance learning. While this affected all student athletes, seniors and juniors looking to earn a scholarship were particularly impacted. 
"I've helped athletes interested in cheering in college create videos that highlight their strengths and skills," said Jessica Donnelly, cheerleading coach. "I send those videos along with a letter of recommendation to the coach and communicate with them as much as is required." 
At the end of April, the Suffolk County Department of Health suspended mandatory testing for high risk sports, although it will make COVID test kits available for any district with a boys lacrosse team as it is considered a high-risk sport, according to Newsday.
Alyson Swenson contributed to this article.