Bleachers filled with virtual fans to support athletes during pandemic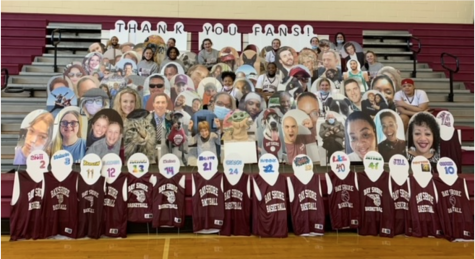 Classrooms and cafeterias weren't the only places where social distancing rules impacted the number of people allowed in a location.
The stands in the gym were sparsely populated as well,  with players´ friends and family relegated to watching games from afar when the athletic department streamed some events online. 
¨The meets are streamed,¨ said Mariusz Borkowski, coach of the girls varsity swimming/diving team,¨but the students miss the part where we can interact with the spectators." 
That disconnect between athletes and fans is at the heart of the Fill the Stands drive that started in mid-March, bringing some much needed "fans" to the bleachers. For $20, supporters can purchase a life-sized cutout that is "seated" at games to make the gym seem packed with fans. 
¨I just wanted to do something for my players to bring a smile to their faces," said Janine Mazzie, coach of the girls varsity basketball team. "Many of them were sad because we couldn't have fans. So, I thought why not give them a crowd, even if the crowd is a silent one." 
In March, the state permitted student athletes to have two spectators at sporting events, as long as they maintained six-feet social distancing and wore face coverings while the venue remained below 50 percent occupancy.  Placing cutouts purchased by family and friends will make the stands appear to be more populated than in actuality.  
"I thought it was a step in the right direction," said Jack Quirino, junior and volleyball player. "It brings more joy to the [game] when the people cannot go. It makes the people playing feel like there are people there."
Cutout pictures are not just limited to pictures of family and friends; some people have gotten creative and bought cutouts of their pets and even famous people, Mazzie said. The buyer decides who they want cheering in the stands. 
¨A lot of companies do things like this, but I really wanted to keep the money in Bay Shore, so I linked up with Suffolk Printing,¨ said Mazzie. "We are doing it as a fundraiser for Peer Support.¨
Mazzie said monies raised from the sale of cutouts could be used for things like senior scholarships, Awareness Weekend guest speakers, Peer Support retreats and the Adopt-A-Family program.
¨I wouldn't buy a cutout because I feel like it would be useless,¨ said Lynette Torres, senior student. "I would throw it out after a game.¨
Even after the pandemic, Mazzie said students and parents will be able to purchase a cutout, which can be ordered in the Time Out Room. 
¨There are always people who can´t make it to an event but want to show their support,¨said Mazzie. "This is a fun way to do it.¨