Pandemic teaching finds educators in uncharted waters
Online activities, computer cameras and distanced desks make the school year like no other
     On Friday, March 13, 2020, students left school, never imagining that they wouldn't step back into the building for the rest of the school year. Three hundred and sixty-five days later, the face of education has changed, with some students separated by space and time, as the district has implemented socially distanced desk and an alternating schedule; others haven't been back to school in a year as their families opted for them to learn from home on a daily basis.
     Over the next few weeks, the Maroon Echo staff will be taking a look at how life has changed due to the pandemic. School, home and social life will be examined as well as how teens are keeping themselves entertained in a socially distanced world. 
     From spraying down desks with disinfectant to setting up computer cameras for the virtual students at home, from submitting daily health surveys to recreating lessons, teachers have had to adapt, and quickly,  due to the COVID-19 pandemic.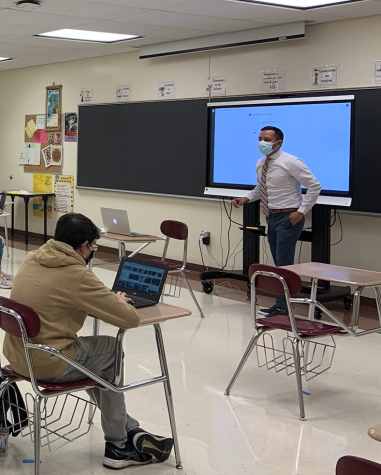 At the start of the school year, 52 percent of schools in the US were fully virtual learning while nearly 20 percent of districts instituted the hybrid model, which splits students' time between in-class and computer learning, according to NBC News. The hybrid model necessitates teachers splitting their attention between two audiences that are digitally distanced. The high school has been using a modified version of hybrid learning since September 2020.
     "I come home from work every single day feeling like I have run a marathon," said John Selzer, social studies teacher. "Teachers are working harder than they ever have to deliver the best lessons that they can, lessons that students can easily understand."
     Districts across the country were left to chart their own course this school year, according to the New York Times. In New York, schools had to present their own detailed plans for reopening but by late August 2020, some five months into the pandemic, 177 out of 749 school districts across the state, about 25 percent, had missed the deadline to submit opening proposals to the Department of Health. 
   "The overarching principle was that our students will do better if they are able to learn in classrooms with their teachers and peers," said Joseph Bond, superintendent, in an August 2020 press release, explaining why the district chose to begin the school year with the hybrid model, where two groups of students alternate in-school/online learning. Families were able to opt into a fully virtual model for their children. (for more about how the virtual model is working in the high school, click here)
     While the district initially instituted a four-day alternating hybrid schedule with one day a week for self-directed learning at home, Wednesdays became teacher-directed remote learning in November 2020. On March 3, the district fully embraced hybrid learning, bringing half the student body back to the building on alternating Wednesdays. (for more about how the hybrid model is working in the high school, click here)    
     Students under the hybrid model in PreK through fifth grade have been attending in-person learning five days a week since November 2020. The middle school follows the same model as the high school.
     "In previous years, a student who got stuck with a math problem could often be helped by me walking over, looking at their work, and pointing out the error," said James Carr, math teacher. "Now, keeping distance is key, which makes helping that much more difficult. For virtual students, the problem is even more acute as I cannot see their work, not to mention the delay in communicating that comes from teaching over a broadband connection." 
     Each week this school year, the district has offered digital learning and innovation classes for teachers to explore how to use online learning platforms and implement them into their lessons. These classes are available online only; even monthly faculty meetings are virtually attended for the safety of the teachers. 
     Despite numerous attempts to reach Christopher Kauter, director of digital learning and innovation, for comment, he did not respond.
     "One positive side to this whole mess has been our ability to experiment with electronic platforms," Selzer said. "Digital collaboration has been a surprisingly effective way to get students engaged."
     In the first half of 2020, there was a nearly 18 percent growth in the sale of online education platforms, according to Businesswire. The school now has contracts with such digital platforms as Nearpod, Deltamath and Edpuzzle, all which offer interactivity with the students and content. 
     "The amount of planning time needed to prepare for digital learning is intense," said Carr. "I can say, without hesitation, that this has been the most demanding year, as a teacher, and I believe most of the staff would agree. While not everyone sees it, teachers are working and planning harder than they ever have."
     The Minnesota Star Tribune reports that some teachers have spent at least another 12 hours on top of the regular five-day school week redesigning lessons for hybrid/virtual teaching, while the Springfield National Education Association found that the pandemic has doubled the workload and preparation for teachers.
     "I keep the same disciplined plan of testing each week,  but I need to assign open book exams because I can't be at home with the students while they are testing," said Jackie Side, Spanish teacher. "I try to design exams which will hold the students more accountable, such as listening response exams." 
     Physical education teachers are struggling to find workouts that can be available for all students, according to  EdSource, and they are finding it hard to connect with at-home hybrid and online students, especially when it is only through an app. 
   "I'm allowing the kids who struggle with submitting pedometer steps/proof of workouts to write 5-6 sentences about their workout, how they felt, and what they did," said Anastasia Debonis, physical education teacher. ¨Some kids speak to me during class time and show me photos on their phones and activities they do outside of school which keeps them active and in good shape…PE feels more like recreation at this point and I'm extremely frustrated about this.
     As a part of its "Education in the Face of Unprecedented Challenges" study, The Yale Center for Emotional Intelligence found that teachers' most-reported emotions of 2020 were 'anxious', 'fearful', 'worried', 'overwhelmed' and 'sad'. Gone from the previous list published in 2017  – 'happy'.
     "This learning environment has been absolutely insane to navigate," said Selzer. "Each day, I worry about the health and well-being of my students. I worry about the health and well-being of my family. I worry about my own health and well-being, both emotionally and physically. All this worry combined with the increased workload placed upon us has taken a serious toll on my ability to stay positive and to simply do my job. I am trying though!"
   Cyndi Heraclio contributed to this article.