New open concept play makes 'God of War' one of the year's best games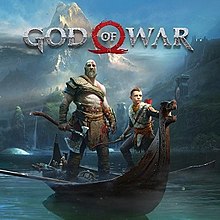 By Seth Armendariz
If your gaming tastes consist of magic, axe-wielding, and epic fights then, "God Of War" (2018), the gruesome, barbaric, god-slaying game, is for you.
Deemed the eighth installment of the franchise for the PS4, the plot takes a turn from its usual Greek Mythology scenario and deposits the player in a loosely-based Norse Mythology setting.
The protagonist, Kratos, voiced by Christopher Judge ("Stargate"), makes his great return, but with an ally, his son Atreus (voiced by Sunny Suljic). The two prepare for a journey to the top of the tallest mountain in all the realms to spread the ashes of Kratos' wife, who died in between games. On their way, they (meaning you!) must fight creatures of Norse mythology and solve countless puzzles in order to complete the quest. To say any more would spoiler the plot twists.
Fans of the franchise will notice that "Gods of War" (2018) has a more open world game. Other "God of War" games constrict and limit the players movements, allowing one to only head toward the objective. In this new installment, the free-roaming player mode allows the player to explore the scenery, discover new areas and complete side quests (also a new addition to the game). This gives one a new sense of freedom. The slow pace exploring the gigantic world does make the game play a little irritating, but a quick travel system of moving through inter-dimensional doors makes up for it.
The second change one will notice is Kratos' new weapon of chaos, the Leviathan Axe, given to him by his wife. With this weapon, a new style of fighting is granted the player, and with more powerful attacks and a new leveling system, one can learn multiple combos that will in getting out of sticky situations. Unfortunately, the player is not given multiple weapons at every turning point. In previous games, new weaponry was available at turning points with a maximum of four new weapons at hand, but this new installment only offers two weapons, one of the being the Leviathan Axe. A shield to parry and block rather than a shoulder guard is also made available, which is a huge plus since the player could not previously do combos.
The biggest change to "God of War" (2018) is the role-playing game feel – along with the main story line, there are multiple side quests allowing the player to gain stronger items and experience just like a regular RPG, a genre of video games where the player takes control of a fictional character(s) and undertakes quests in an imaginary world. Also, items that one acquires can increase stats, making the player stronger and more able to compete with more advanced enemies in higher levels.
This game is by far one of the best single player, story-driven games to come out in a while. It will be really hard for any other game to top "God of War" this year with it setting the bar so high due to its expansion from its storyline driven game to its new way of exploring a bigger world. "God of War" deserves a solid 9 out of 10 with its only flaw being the lack of weaponry expansion.