Over 500 freshmen receive laptops as part of ongoing technology program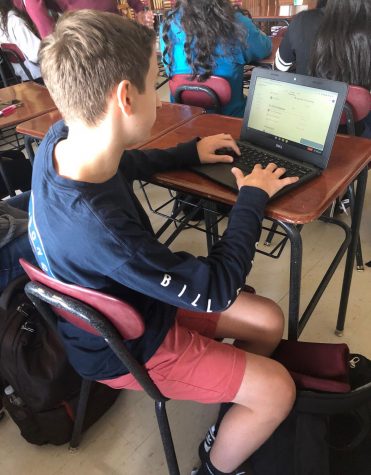 By Hailey Darsoo, Kaylee Lafontaine Alonso and Georgios Stavroulakis 
   If it seems that this year more classrooms have students working on Chromebooks, it is true. About half of the student body now has technology at its fingertips. 
   Over the past two years, the district has given about 900 Chromebooks to students in the 9th and 10th grade for educational purposes. 
   ""The district and I felt like it was a way for students and staff to become a little more empowered with the learning process," said Robert Pashkin, principal. "The students are getting more involved which is always better for learning." 
   A Chromebook is a laptop designed to be used while connected to the Internet, with most applications and documents living in the cloud, according to Laptop Magazine. There are now over 30 million students in American schools using Chromebooks, according to Android Central. 
   "With Chromebooks…I'm making sure [students] are engaged with what's going on in the class and that we are all connected,̈  said Josett Bernberg, English teacher, who uses the technology with her tenth graders. "Everyone is on the same page, which is great.¨
   According to Android Central, students need a few basic things to have a successful education – tools to stay organized, resources to find information, and a system to communicate with other students and educators.
   "Chromebooks have lived up to my expectations because they make schoolwork easier," said Farheen Mufti, sophomore. ̈If kids are sick at home they have no trouble getting their assignments submitted on time. It helps kids stay more organized and saves trees." 
   Since a Chromebook automatically runs on Google Chrome, students can easily access Google Drive, Google Classroom, Gmail, calendars, video conferencing, YouTube videos, and more, according to Coolhead Tech.
   "I am able to use interactive websites, especially with art," said Laura Moakley, art teacher. "Sometimes, we go on 360 degree tours of different museums and there's a lot available now. Chromebooks have had a real positive effect on my teaching.¨
   The Chromebooks students have been provided with cost about $225 each, according to district figures. Based on the number of freshmen attending, about $118,000 was spent on outfitting each with a Chromebook this year. Before graduation, students will be expected to return the device.
   ¨You can take these Chromebooks, go to another classroom and all your work follows you," said Christopher Kauter, director of digital learning and innovation. "Hypothetically speaking, if you go to your home or your friend's home, everything is with you. For organizational purposes, I think that helps. Students are able to submit their homework whether it's 10 am or 10 pm – whatever fits their schedule."
   Last year's freshmen kept their laptops over the summer, and that will continue with this year's freshmen. By 2021, every student is expected to have a Chromebook provided by the district. 
   "The Chromebook has helped me tremendously with my school work," said Valeria Vargas, sophomore. "It makes everything easier and more organized and it makes [it] easier to interact with teachers.''